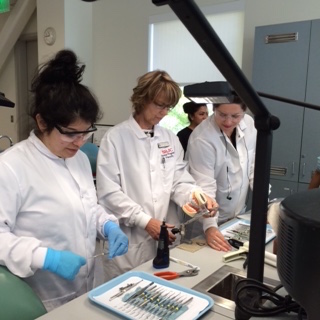 SRJC Dental Assisting Certificate-Year-to-Career Program
 
     The dental assistant takes on significant responsibility as a member of the dental health-care team. Registered Dental Assistants greatly increase the efficiency of the dentist in the delivery of quality oral health care and are valuable members of the dental care team. The duties of a California registered dental assistant (RDA) are among the most comprehensive and varied in the dental office. They perform many tasks requiring both interpersonal and technical skills.
Responsibilities include:
assisting the dentist during a variety of treatment procedures;
taking dental radiographs;
reviewing a patient's medical history and taking their vital signs;
serving as an infection control officer;
developing infection control protocol and preparing and sterilizing instruments and equipment;
helping patients feel comfortable and confident, before, during and after dental treatment;
providing patients with instructions for oral care following surgery or other dental treatment procedures, such as the placement of a restoration (filling);
teaching patients appropriate oral hygiene strategies to maintain oral health; (e.g., toothbrushing, flossing and nutritional counseling); and
taking impressions of patients' teeth for study models.
     In addition to clinical responsibilities, those who prefer the business office can have administrative functions, such as a scheduling coordinator, an insurance processor, treatment  and financial coordinator and as an office manager.
Video:  ABOUT DENTAL ASSISTING 
     A Registered Dental Assistant (RDA) is a health professional licensed in the State of California who typically works chairside with patients, assisting the dentist and or working independently performing duties within the scope of practice deemed appropriate by the Dental Board of California. Additionally they may work in the front office, or in a dental laboratory, community clinics, as a dental product representative or as an educator in the college setting. After graduating from Santa Rosa Junior College Dental Assisting program they are able to take the state licensing exam to become a Registered Dental Assistant (RDA) and they may also become a Certified Dental Assistant (CDA) by taking the Dental Assisting National Board (DANB) exam.
DENTAL ASSISTING at SRJC:
The SRJC Dental Assisting Program is located in the beautiful new state-of-the-art William B Race Health Sciences Building on the Santa Rosa Campus.
 
The Dental Assisting program is a well balanced 2 semester (Fall and Spring), full-time sequence of instruction.
 
Twenty-four full-time students are admitted in the program each fall. The program admits students once a year in the fall semester.
 
The Dental Assisting Program has an excellent reputation within the local dental community. Graduates of the Dental Assisting Program rank among the highest in the state in passing the California Registered Dental Assisting Examination.
 
The majority of the dental assisting classes are a combination of science-oriented lectures and skill development laboratories. During the lectures, students learn theory about oral anatomy, dental radiology, dental materials, chairside dental assisting, oral health information, and management of dental and medical emergencies. In the labs, students apply the knowledge that they have learned in lectures and develop the skills necessary to become competent in the procedures they will expected to perform in their clinical experiences.
 
During the fall and spring semesters, students should plan for classes to be scheduled from 8 AM to 5 PM, four days a week. There may be times when a class will be held before 8 AM or later than 5 PM.  Approximately 7 hours of outside study each week is required.
 
Students are expected to provide their own transportation to and from their assigned the clinical sites.
PROGRAM GOALS:
     The Allied Dental Programs curriculum creates an environment in which students are stimulated to learn, to grow personally, to develop decision making, ethical, and problem solving skills, and to stimulate creative and independent thinking.  Students will achieve professional and personal growth through application of classroom knowledge in clinical, laboratory and community settings.
To provide an education that reflects academic excellence and which serves the variety of needs and abilities of our students- 
 Graduates will apply evidence based knowledge and skills as they assume the responsibilities of a registered/certified dental assistant. 
 
 Assisting students to succeed in meeting their educational goals by providing comprehensive instructional and student support services. 
 
 Prepare graduates to assume responsibility for continued professional growth, high professional standards and to meet the challenges of oral health care delivery. 
 
 To prepare students to pass the Certified Dental Assisting Examination and California State Registered Dental Assisting licensure examination.
PROGRAM COMPETENCIES:
Upon successful completion of this certificate, the student will be able to: 
Graduates of the dental assisting program will be able to make ethical decisions, and demonstrate problem-solving abilities through independent and critical thinking.
 
Graduates will be able to assist a dentist in all phases of diagnosis and treatment of patients, including restorative and cosmetic procedures, endodontic procedures, orthodontic, pediatric, and surgical procedures.                           
Career Opportunities:
     The SRJC dental Assisting Program is a 2018 CA State Community College Chancellor's office gold Star Award winner.  This award is given to career and technical education courses who show outstanding post-college outcomes in: Employment, Earnings Gain and Regional Living Wage.
     SRJC Dental Assisting Graduates achieve: 100% employment in their field, have an 161% increase in earnings, and 73% attain the regional living wage
     The Registered Dental Assistant is able to find employment in various settings depending on their particular interest. Whether it be in a general office setting, a specialty office, a hospital, a community dental clinic, or in a dental school. There are many opportunities to learn and grow as a team member in these settings. Being a licensed dental professional allows the RDA to wear many hats with the possibilities not quite limitless allowing them to work in positions such as a dental product salesperson, an office manager, scheduling coordinator, insurance clerk, a consultant or as a teacher in the community college setting. Graduates of community colleges are in great demand and are often hired even before they finish the dental assisting program. Students are encouraged to further their knowledge, skills and education opening many more doors and opportunities for advancement in the field. Looking to the future they can pursue their Registered Dental Assistant in Expanded Functions 2 (RDAEF2) license by completing additional schooling through a dental school or completing prerequisites and applying to attend dental hygiene or dental school. 
Accreditation & Licensure:
     Students graduating from the dental assisting certificate program at Santa Rosa Junior College receive a comprehensive education in California Registered Dental Assisting duties and are eligible to take the California RDA exam upon graduation.  
     After successfully passing the California state RDA exam, the RDA is licensed in California by the Dental Board of California. Upon completion of the dental assisting program graduates may also become a Certified Dental Assistant, which requires the applicant to take and pass an exam administered by the Dental Assisting National Board. This certification is recognized throughout the United States.
 Licensure Note:
     In accordance with state law, the Dental Board of California (DBC) may deny licensure for crimes substantially related to the practice of dental assisting. This includes convictions involving sex crimes, drug crimes (including DUI), and crimes of violence. It is the responsibility of the applicant to present sufficient evidence of rehabilitation to the DBC prior to licensure application. 
Click here for:  Frequently Asked Questions